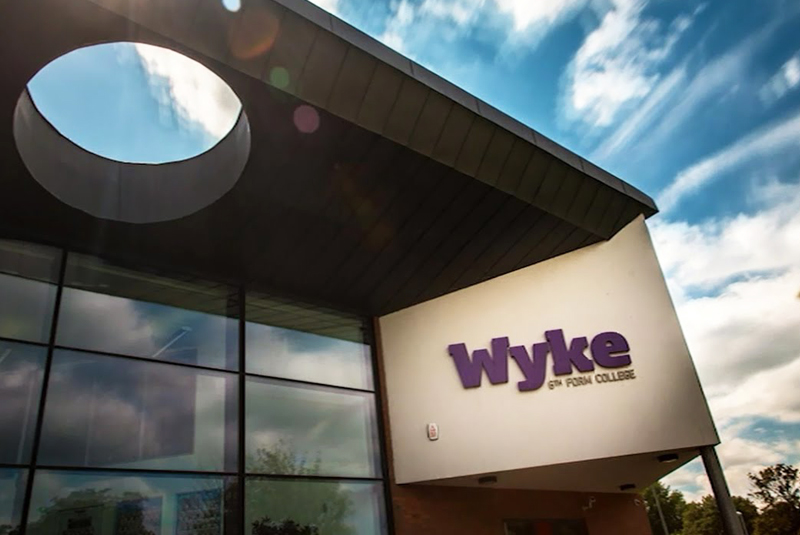 About Us
Wyke Sixth Form College is a true sixth form college situated in a university-style campus, providing a student-centred community to all our learners.
Offering over 45 Level 3 courses, Wyke's teaching staff are subject specialists and their efforts are rewarded with consistently high results. Each year hundreds of Wyke students progress to university, securing places at Oxbridge and on highly competitive medical courses.
In 2019, our Sport, PE and Dance staff were named FE's "Teaching Team of the Year" and collected their award on BBC2's "Classroom Heroes" programme. In 2020, Wyke ranked at number 41 in the UK in The Sunday Times Parent Power Survey, placing us in the top 2% of schools and colleges considered.
The Impact of Digital Technology
At Wyke, we embrace technology and offer our students state-of-the-art equipment in our Library, as well as in our Music, Media and Creative Art departments, featuring high-tech recording equipment, green screens, a photography studio and an Apple Mac suite.
Throughout the pandemic, digital technology has given us a significant head start in providing a rich teacher-student user experience.
From September 2020, Wyke adopted a 50/50 teaching model. One year group attended lessons onsite and one year group engaged in remote learning, swapping over the following week. We have utilised Microsoft Teams to deliver a full curriculum to all our students, ensuring that their studies suffered as minimal impact as possible.
Adopting the Teams platform has also allowed parents to engage with their children's teachers and tutors, offering remote consultation sessions which the college plans to keep running for the foreseeable future.
We provided popular live streamed Open Events across Facebook to allow school-leavers to interact with the college and take a virtual campus tour, enabling them to make sure that Wyke is the right choice for them.
EdTech Champions
Along with our partner college Wilberforce, Wyke Sixth Form College has fully engaged in the DfE Demonstrator Programme. We have EdTech champions across the college, running and facilitating CPD across the site. Our teaching staff are undergoing action research projects to determine what EdTech and remote teaching we will keep moving forward.
360-Degree Campus Tour
Take a virtual stroll around our beautiful campus at: 360-Degree Virtual Campus Tour