Latest from DN Colleges Group November 2018
Below are some of the latest digital initiatives that the Academic Services and LET's teams have been running across the group recently.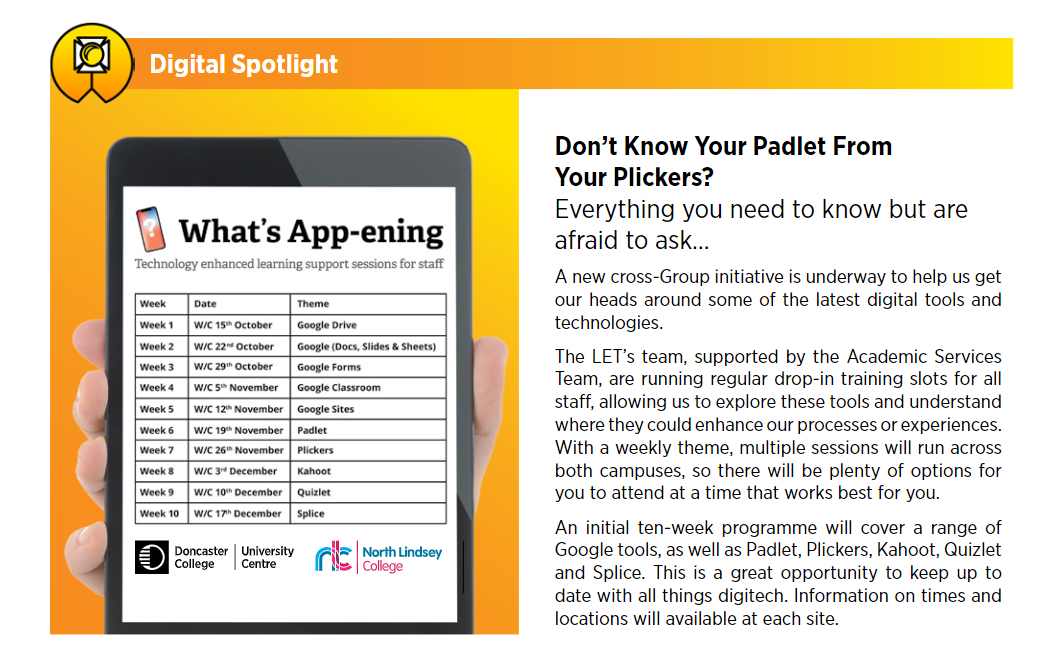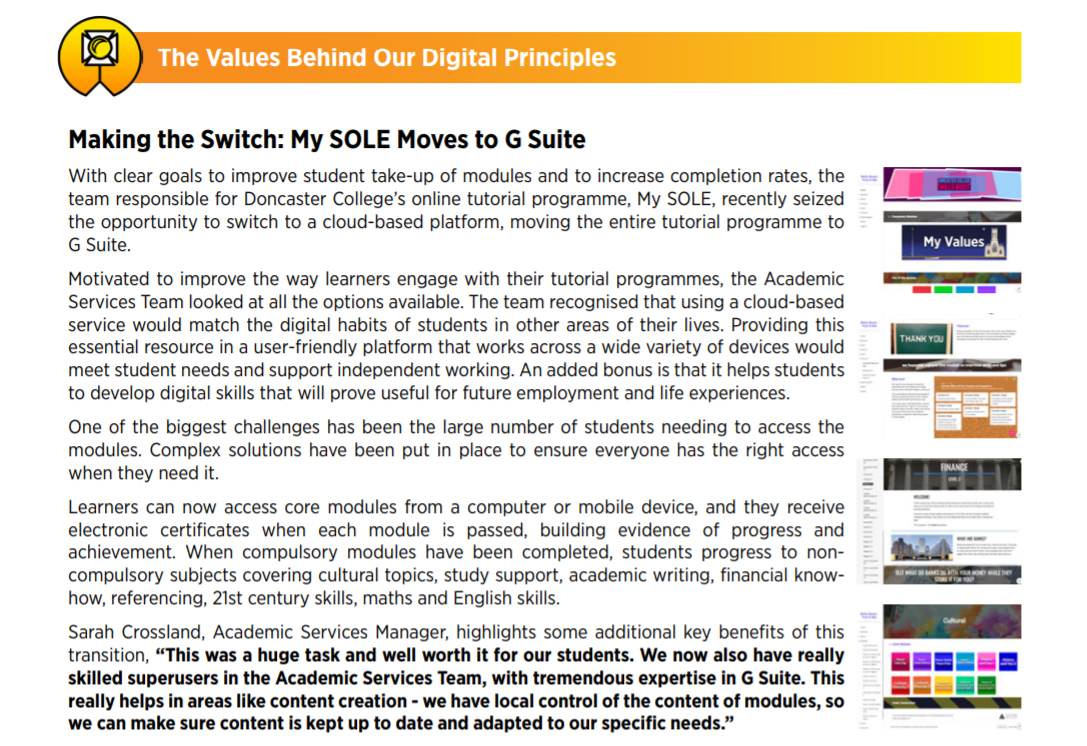 Video Case Study
"Google Apps for Education" Project
Interim Director of Information Services, Colin Addy and Sarah Crossland, Academic Services Manager are undertaking an evidenced-based research project, this year, to determine the effectiveness of Google Apps for Education in various settings across various Levels (E1 to 7). The research project will also feed into the Association of College's Scholarship Project National Scholarship Framework.
The Centre for Digital Pedagogies
The Centre for Digital Pedagogies was founded in January 2015 with the aim of engendering a culture of sharing and inquiry with respect to both research and praxis in all aspects of digital pedagogies. Involving both business support and academic colleagues across the organisation, its mission is to ensure that teaching, learning and assessment is underpinned by pedagogical, technological and content knowledge, equipping both staff and students with the critical digital literacies required to succeed in technologically rich environments. The Centre is currently supporting all members in attaining Google Certified Educator Level 1.
Digital Pedagogies Conference 3rd July 2015
Building on the work done at the Centre on using digital tools both thoughtfully and critically, the first Digital Pedagogies Conference was held in Summer 2015 at University Centre Doncaster.
The conference aimed to bring together practitioners from all aspects of education – primary through to higher – to share and collaborate in the rapidly growing field of digital learning; as well as encouraging debate and sharing critical scholarship, innovative practice and creative pedagogy irrespective of discipline.
The conference had over 200 delegates in attendance, with over 50 speakers covering a wide array of topic relating to digital pedagogy from using technology in unusual surroundings to new technologies trialed in the classroom.
Further details regarding the conference can be found on our website: www.digitalpedagogies.com
Current Projects and Learning Initiatives
Ongoing developments in online and blended provision including conferencing software and video annotation with Videonot.es.
Use of self-reflection applications to enhance teaching and coaching behaviours
Use of physical sensors, motion tracking and 3D digital mapping in the creative arts.
Use of augmented reality in anatomy for sports and for supporting those with special educational needs.
Multimedia assessment integration with Planet eStream
Tracking learning in study skills modules with digital badges