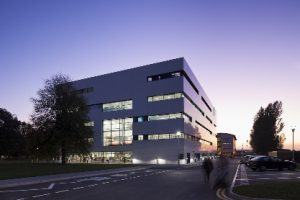 The Grimsby Institute of Further and Higher Education is committed to the digital development of its staff and students. Indeed, the notion of innovation is woven into the strategic aims of the group and the fabric of all teaching and learning in further and higher education.
The college has already placed 15-20% of it's core level 2 and 3 curriculum online – following the recommendations of FELTAG. To facilitate this transition and to support the global embedding of the digital strategy, the Department of Innovation was created.
The Department of Innovation, or 'Innovate' sits within the Quality department as a separate team of educational and technological specialists. Every member of the team is an ex-tutor that has demonstrated an impeccable teaching record as well as impact led skills in innovation. The team work across the whole college group (Grimsby, Skegness, Doncaster & Scarborough) training, supporting and developing staff skills to meet the strategic aims of the college group and the wider technology enhanced teaching agenda.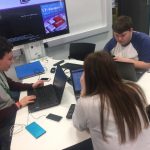 The 'Innovation and Quality Hub' was set up in 2016 as a specifically designed staff development and innovation area. The Hub is comprised of three specially equipped spaces – the Learning Lab, the Learning Lecture Space and the Learning Lounge. Each of these spaces has been equipped with a range of connected technologies and devices including iPads, laptops, Surface Pros, Desktop PCs, large screen TVs, Hololens, VR equipment and a Surface Hub or Smart Screen. The spaces are staff only (unless they wish to host a class in there) but are bookable on a daily basis and are designed to allow the staff to try new ideas, work on their blended learning or flipped content, try out to technologies for deployment in their classes and generally try and become less risk averse.
The area operates using the SAMR model, which tries to move regular teaching into a more modified and redefined state using technology as a potential bridge. The model defines early adoption of technology in education as generally a substitution/augmentation from a more traditional idea (whiteboards/marker pens) to a digital alternative (Smartboards/PowerPoint). However the transition is often stalled at this point. To move to modification/redefinition the tutors must use new technologies to define and adopt new pedagogic practice that is not previously thought possible –  or certainly not previously easily adopted without technology.
To support and embed this definition and to assist staff, Graham Raddings – the Learning Innovation Manager – devised the 'Level Up' initiative. Which is specifically designed to allow staff to innovate  with technology in their own role, while adopting new skills and practices.  Staff choose a technical skill they want to 'Level Up' using an Agile driven time-boxed one-to-one or one-to-few training plan. The staff then learn and deploy immediately to gain maximum iterative benefit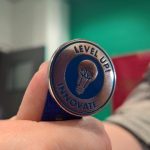 to their working practice. Successful adoption of a new technology is celebrated on the college social network Yammer with a selfie of the newly trained staff member showing off their new silver 'Level Up' badge. They must also further nominate two colleagues to begin their own Level up journey.
Th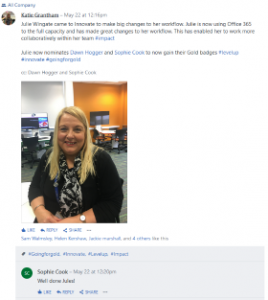 is AOC Beacon nominated Level Up 'cascading' method of staff development has allowed the Innovate team to train over 50% of the entire college staff with a new technology – in just 6 months! It is so successful that the team have further introduced Level Up Gold and Level Up Honours, to allow staff to not only join in the process but to allow progression of their development onto more difficult technologies and innovation methodologies.
Both the Innovation and Quality Hub and 'Level Up' were identified as outstanding in the 2017 Ofsted report following their inspection of the college group.
Their report states:
"The dynamic and innovative approach to staff development provides exceptional support
for teachers to improve their practice. Teachers speak confidently about the value of the
staff development they receive. Quality arrangements to improve teaching, learning and
assessment are supportive and thorough, and lead to timely interventions and sustained
improvements. Staff are encouraged to experiment and to take risks in developing
innovative approaches to their teaching practice, resulting in creative and confident
teaching that has a very positive impact on the progress that learners make.
Video Case Study