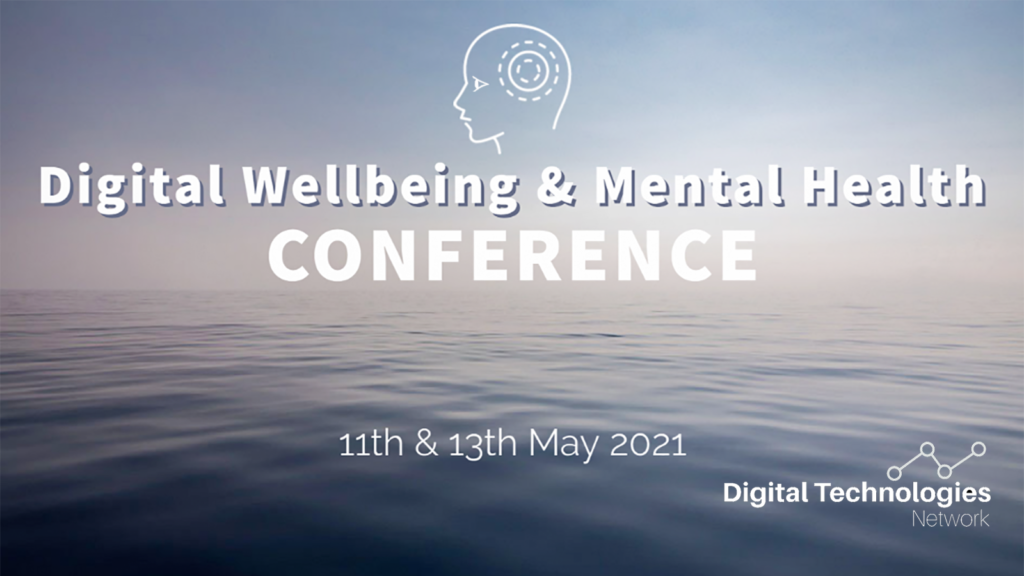 The 'Digital Wellbeing and Mental Health' conference has been brought about to recognise the contribution made to supporting the mental health and wellbeing of students, lecturers and support staff across the University of Hull Federation of Colleges, through the good practice contributions of both, the staff directly supporting mental health and their digital technology colleagues, who have continuously supported online engagement throughout the past year and into the future.
Colleagues from the Mental Health and Wellbeing Group and the Digital Technologies Network hope that you will find the two days of interactive presentations a useful opportunity to share interest and expertise across a range of topics.

Please note that following the conference, link to access the presentations will be posted on this page.

To register for the conference please email V.L.Parker@hull.ac.uk
Programme – Day 1: 9.30am – 1pm
9.30 – 9.35
Introduction
Viv Parker,
Senior Advisor UK Partnerships University of Hull
9.40 – 10.10
YouCoach on Youtube: empowering staff to support themselves and others with mental health and wellbeing'

Bishop Burton College

Presenter:
Simon Horner, Mental Health Coach, first aider, PL HE Animal Management
Simon will be looking at his ilearn online platform
Health and wellbeing ilearn page for staff and the health and wellbeing tips youtube channel to empower staff to help themselves
10.10 – 10.40
Let's Get Jolly With Jodie Mental Health Awareness: Interview 4 with Santino Roberts (DJ Methodz)
East Riding College
Presenters:
Jodie Kempson, Enrichment Officer
Santino Roberts (DJ Methodz)
Supported by David Roberts
These are excellent short interviews on a range of Mental Health and Wellbeing topics
To be followed by the opportunity for question
10.45 – 11.35
Using Google Classrooms to promote wellbeing
Selby College
Presenter:
Valerie Wood
HE Student Support and Engagement Officer
Supported by Sarah Abbott & Stacy Vipas
The College has used a number of wellbeing initiatives that have used the Google Classrooms platform.
11.15 – 11.35
Coffee break
Chat time
11.40 – 12.10
'Let's get Jolly with Jodie'. You tube. Interview No 8
East Riding College

Presenters:
Jodie Kempson, Enrichment Officer
Dan Marley, East Riding College Facilities and SHE Manager
Paul Longley, Director of Andy's Man's Club in Hull

Supported by David Roberts
Men's Mental Health

These are excellent short interviews on a range of Mental Health and Wellbeing topics
12.15 – 12.45
Supporting remote learning by maximising Learning Support Assistants (LSAs)
Lincoln College
Presenter:
Jacqui Browne (Professional Standards and Learning Coach),
When face to face support was replaced by Microsoft Teams, many of our LSAs found themselves in an unfamiliar environment. The LSA project has boosted the skills and confidence of both LSAs and College practitioners, enabling them to work together in a remote space to provide support for our learners. This session has a focus on collaboration and discussion with a view to establish ways to work effectively with an LSA in remote sessions. Come with an open mind and a willingness to share!
12.45 – 1.00
Plenary

Viv Parker, Senior Advisor UK Partnerships University of Hull
Answering points raised during the day
Programme – Day 2: 9.30am – 1pm
30 – 9.35
Introduction
Viv Parker,
Senior Advisor UK Partnerships University of Hull
9.35 – 10.05
'Using technology to support a whole college approach to health and wellbeing'.'

Grimsby Institute
Presenters:
Simon Davies, Applications Developer
Melonie Hoban, Success Coach
Francesca Mabbitt, Data Administrator
Supported by:
Elaine Topham and Drew Scrimshaw
'Join Melone Hoban, Francesca Mabbitt and Simon Davies as they discuss how technology has been deployed to support a whole college approach to health and wellbeing.
In this video Simon will delve into how the college has supported staff as well as have an interview with Francesca Mabbitt about her experience. Melonie Hoban will discuss the services and assistance available for learners. All of this has been enabled by the use of technologies such as Microsoft Teams.'
10.10 – 10.40
21st Century Learning Skills – How can we support them in a digital space
Lincoln College
Presenter:
Gavin Knox, Professional Standards Learning Coach.
These skills are intended to help students keep up with the lightning-pace of today's modern working world. The pace of this has increased further as a result of Covid-19. Businesses have changed forever. For example, it has now become common practice for interviews, team meetings and client consultations to be held online. Developing 21st Century Learning Skills (21CLS) is a key component in preparing learnings for employment.
This session will provide you with an opportunity to hear how an FE College, through teacher collaboration, have designed a series Learning2Learn lessons to support learners in adapting to learning online and how these skills link to their future employment'.
10.45 – 11.35
Digi tech is a social anxiety toolkit'
DN Colleges Group.
Presenters:
University Campus North Lindsey
Lisa Beardsley Pastoral Support Officer
Emma Borg-Jackson HE Support Co Ordinator
Doncaster University Campus
Chris Lillywhite and Stephanie Darke Academic Enhancement Tutors
Supported by Joe Elliott.
The Social Anxiety workshop has been designed to assist students to regain their independence and to encourage confidence, now the Covid restrictions are easing
11.15 – 11.35
Coffee break
Chat time
11.40 – 12.10

Collaboration to produce a spoken word piece around mental wellbeing
This will help us create opportunities with the One Hull of Forest Project we are partnered with
Hull College
Presenters:
Suzannah Miller, Student Engagement Officer;
Alice Godber, Student MA Creative Practice;
Thomas Robinson, Student FD Fine Art;
Debbie Meakin, Scholarship and Learning Manager
The first session is a recorded interview and discussion about a project with the NHS and the collaborative work of students and staff in response. A spoken word piece was created, which will be read in the session. The project background, the approach and the experiences of members of the group in the project are covered
The second session will be a live Q&A following the recording'
12.15 – 12.45
How a collaboration-based/constructivist approach to VLE use can help support staff development
Lincoln College
Presenter:
Dr Gary Fisher (Professional Standards and Learning Coach)
Supporting teaching practitioners' confidence and capacity to deliver learning materials through Virtual Learning Environments persists as a challenge across the education and training sector. Complaints of lack of time, resources, or technical skills may be familiar to many staff who work to support digital learning.
This session will outline the practitioner-led approach to VLE development that has been employed at Lincoln College. It will introduce some of the collaboration-based activities that have been facilitated within the college and their effects on practitioner confidence and wellbeing.
Finally, it will share how this constructivist approach to digital learning design has supported staff in developing and implementing novel and innovative learning solutions that are tailored to the teaching and learning needs of their subject area and students'
12.45 – 1.00
Plenary

Viv Parker, Senior Advisor UK Partnerships University of Hull
Answering points raised during the day